Yes, I'm still blogging about Christmas in January. I'm a bit behind. Bear (Bare?) with me while I get caught up. Eventually I'd like to blog about present day happenings!
Our church had a Visit with Santa day like they did last year. We assigned Biju to the Santa-Line while the rest of us participated in other activities.
Face painting was a big hit. Aren was mesmerized by this clown. He wasn't scared but he couldn't stop staring at her.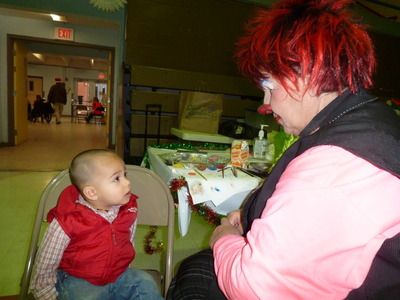 And he was perfectly fine with her painting his forehead. (She thought the forehead would be the best place for the gingerbread man we chose.)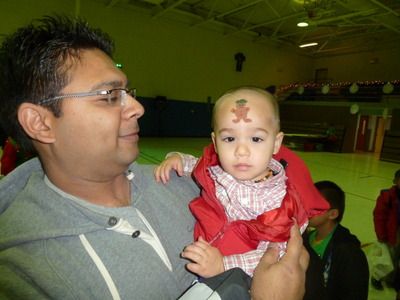 Ajay chose a skeleton -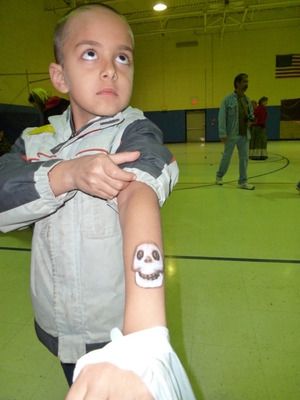 So of course Alex had to choose a skeleton, too. However, the clown had only ever done one skeleton before and that was Ajay's. She chose to give Alex a stamp - she painted the stamp and then stamped Alex's arm with it.
(Really, Kalinda, is this the best photo you got??)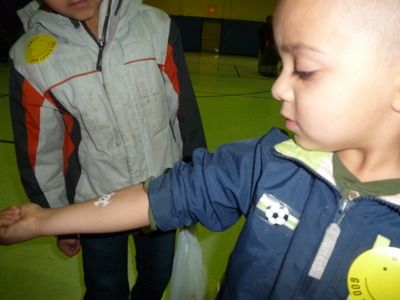 Biju called us over for our turn to sit with the man in red. They each got little stuffed animals, too. (Last year they all got huge stuffed animals - I prefer this year's smaller sizes!)