Well, it has been ages since I've updated this blog and I apologize.
Biju likes to give me a hard time asking if people in Malaysia are tapping their fingers on their computer desks waiting for an update from me. Perhaps not, but I do think some of you out there care. Right? So I came back today to give an update from the past month and - bam! - I'm out of space for photos.
I can still post words but words only go so far. Many times I take pictures with YOU in mind. I sometimes go off in la-la land thinking of witty things to write about on this blog and which pictures to add in. Granted, a lot of times I don't get those witty posts in here - typically what I end up writing is stuff like "this is what happened, wanna see a picture of it?" and that's that. I'm much funnier in my own head.
I think if I upload pictures to my Photobucket account first and then copy and paste here, that might work.....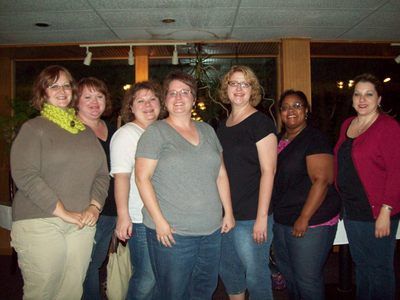 (Kalinda, Janel, Natalie, Lisa, Erin, Tonya, Morgan. Unable to attend this Girls Day: Elissa.)
Yes....that will work.
So here is another... And I'll get busy working between the two websites to bring you more updates. Don't worry, Malaysia, the updates on coming soon!!
(Pictured: Joy with Micah, Angie, Michelle with Owen, Kalinda, Renetta.)